Four steps to a

glasses-free life
Most of our patients regret one thing after they say goodbye to their glasses: not having dared to take the first step much sooner. With experienced doctors, high-quality technology and proven treatment methods, we support you professionally and service-oriented on your way to a life without visual aids.
---
Step 1:

Initial information about laser eye treatment
We would be happy to advise you in detail about the possibilities of eye laser treatment. You have the choice between a free online video consultation from the comfort of your own home or initial information with an aptitude test directly at one of our locations.
Who is this

appointment suitable for?
This appointment is suitable for anyone interested who has had little or no contact with the topic of laser eye surgery or who would like to get an overview of laser eye treatment first.
For those interested who would like both initial information and an aptitude test for eye laser surgery, we recommend an appointment on site.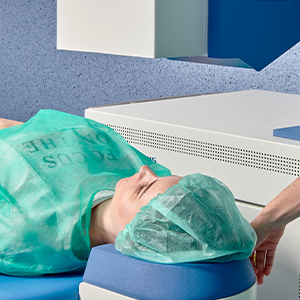 Initial information + on-site aptitude test
We would be happy to welcome you to a personal information meeting at one of our locations.
On this date, one of our opticians or master opticians will already carry out an initial aptitude test for eye laser surgery. The following examinations are carried out:
Measuring the strength of the glasses using a lens meter
Objective refraction
Pachymetry (measuring the thickness of the cornea)
Topography (measurement of the corneal surface)
Determination of visual acuity
Measuring the dark pupil
Tonometry (measurement of intraocular pressure)
After the eye examination, we will inform you about possible treatment methods and answer your questions about laser eye treatment.
Tip:

Save time by combining both steps
Combine the aptitude test directly with the preliminary medical examination (step 2) during an on-site visit and save time. You receive comprehensive examination results of your eyes and know whether and if so, with which treatment method your ametropia can be corrected.
Step 3:

The eye laser treatment
On the day of the treatment, we ask you to be with us at least half an hour before your laser appointment. You will receive a detailed drop plan and further instructions on what to consider after the treatment. We will then administer numbing eye drops in preparation for the treatment. The eye laser treatment only takes about 10 minutes per eye; the use of the laser itself only lasts a few seconds.
After the treatment you rest with us for about half an hour. After a short check, you can go home.
---
Step 4:

The aftercare & behavior after the eye laser surgery
Depending on the treatment method (LASIK, PRK/LASEK, Femto-LASIK or Trans PRK) and your needs, you will have several follow-up appointments with us. We want you to feel optimally cared for even after the treatment and are always there for you if you have any questions.
Now you can start a new life without glasses or contact lenses and look forward to seeing clearly with your own eyes!
Are you interested in laser eye treatment?
We would be happy to advise you in a non-binding information meeting about laser eye surgery. Reserve your desired date via the online appointment.